A Canton Landmark Lost Without a Trace:
Introduction to the Register of Very Special Places
Early one January morning in 1996, I woke up to find some shocking news in our local daily paper. As a folklorist, perhaps as an aging folklorist, I often find that one of the first things I turn to these days is the obituaries, and this morning was no exception. There I found that Herbie Haven of Canton had died the day before in the local hospital emergency room of a massive heart attack. He was only 66.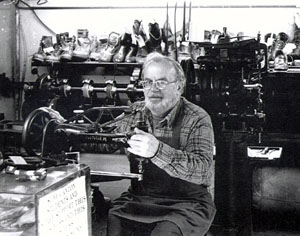 Photo courtesy of Rogene Bessette
I had known Herbie for about 35 years, from the days I was an undergraduate at St. Lawrence University and took ice hockey skates for stitching or patching to his tiny, hole-in-the-wall shoe repair shop in a Main Street storefront basement. That shop was amazing. Antique iron tools on a small bench, several sewing machines, and a small sales counter were completely surrounded–wall-to-wall, floor-to-ceiling–by racks of shoes and boots and slippers of every make and style There were a couple of chairs by the space heater that were always occupied by local characters. Conversation flowed regularly. And Herbie was at the center of it all.
Everyone in town knew him. Nearly everyone for miles around needed heels replaced or belts adjusted and came in the shop at least once or twice each year. It was the kind of place a folklorist loves. I know I did. For years, I had been telling myself, "I have to spend some real time at the shop: record Herbie and his customers, photograph that terrific interior, do a complete documentation." But, there was always next year. Haven's Shoe Repair Shop was a fixture; it would just be there.
A few days after Herbie's funeral, a small notice appeared in the paper that people who had left items for repair could stop by and retrieve them. In a few months, without any public fuss, the equipment was sold out of the area and the shop was gone. The word was that business had gotten bad, what with the trend for cheap, disposable imported shoes and casual footwear, like sneakers. Herbie had never had a partner or an apprentice to learn the trade. No one, including his own family, was apparently interested in continuing. So a local landmark was history. Furthermore, no one, myself included, had ever recorded anything about it.
Today, I consider that experience an eye opener for me. I began to think more about the landmarks in my own lifetime in the North Country and how they have had so much meaning for many of us who live here. This has led to the creation of a new and very exciting project for Traditional Arts in Upstate New York [TAUNY], the regional non-profit folk arts organization in the North Country. We eventually have called it the Register of Very Special Places-RVSP-and welcome you to visit this website and its many parts. Plan to come back often, as the Register will keep growing with interesting other sites being added regularly.
And plan to visit the places themselves, to witness firsthand what we have found so special about them. We especially invite community members to become actively involved in identifying, nominating and documenting your own cultural landmarks. Take a little time to see how it's done and you'll be on your way.
[ This essay is an excerpt from an article by Varick Chittenden which has been published in the Winter 2006 issue of the Journal of American Folklore--#119 (471) ]
FAQs ~ Related Links ~ RVSP Guestbook ~ Credits and Materials Use